Barista Coffee Course Melbourne
Enrol into this interactive coffee training course at our Melbourne training centre and develop foundation coffee knowledge and practical skills you need to get working in industry. Cost: $100.00 Duration: 6 Hours
COFFEE COURSE MELBOURNE
Our barista coffee course at our Melbourne CBD training centre gives you the skills to prepare and serve espresso in restaurants, bars and cafes using a commercial coffee machine.
You will learn essential coffee skills in a group environment that allows time to receive practical training and to then make coffee under the suprvision of our qualified barista trainer.
Short Courses Australia have created this course to be in line with the national industry standard of SITHFAB005 Prepare and serve espresso. (Non-Assessed)
Please Note: If you were after the National Unit SITHFAB005 Prepare and serve espresso coffee, please contact our team here to arrange.
COFFEE COURSE MELBOURNE | COURSE OVERVIEW
Participants will receive training in the following:
History and origins of coffee;
Grind management and dosing;
The start-up and break down of a coffee machine;
Creating up to 12 different coffee styles with a guarantee of preparing and serving a minimum of 30 espresso coffee's on the training day;
Develop skill required to texture milk;
Tasting and understanding the ranges and strengths of coffee.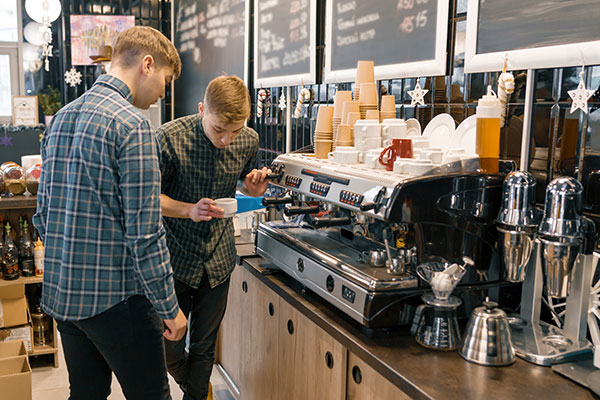 Participants receive a certificate of completion for the course Barista coffee.
BOOK NOW | COFFEE COURSE MELBOURNE
The cost of the Coffee Course in Melbourne is $100.00 per person, including a certificate of participation. Click Here for Onsite Coffee Course delivery at your Workplace or School.
Date & Time
Location
Price
Book Now
Waiter, Bar & Cafè Jobs
Immediate Start

Immediate Start
Customer Reviews
"Really helpful on my career, the course is short and quick??"

"I got my RSA through SCA, my instructor was Lindy and she was amazing! She made the content interesting and engaging and made sure that we all got all the information and clarification needed to pass the course! Highly recommend if you are needing your RSA, the online format made it super easy as well :) Thanks Lindy!"

"I love you Bill!!! Thank you for being so personable!! An absolutely fantastic trainer. You have stoked my passion to be a barista, and made what I thought was impossible, possible. You are awesome!!! Tazzy the train man!!"

"The course was awesome, the teacher was fun and friendly, and a class fun to participate in. It was nice that we had the information needed to understand about coffee making, and we could put it to practice at the moment and experience the usage of the coffee machine to make different drinks!"

"The course was thorough and well delivered. Clearly outlined the different licenses attainable and the legal responsibilities which are associated with each license. Definitely recommend attending."

"This short course is exactly what I needed: practical, resourceful and educational. I really enjoyed the course and how it was easy to so via zoom. Glady do another course in the future."

"Very good course had fun and learned a lot!"