Barista Coffee Course Sydney
Short Courses Australia offer an interactive trainer driven training session to develop skills preparing espresso coffee using a commercial coffee machine. Cost: $100.00 Duration: 6 Hours
COFFEE COURSE SYDNEY
Our barista coffee course at our Sydney Ultimo training centre gives you the skills to prepare and serve espresso in restaurants, bars and cafes using a commercial coffee machine.
You will learn essential coffee skills in a group environment that allows time to receive practical training and to then make coffee under the suprvision of our qualified barista trainer.
Short Courses Australia have created this course to be in line with the national industry standard of SITHFAB005 Prepare and serve espresso. (Non-Assessed)
Please Note: If you were after the National Unit SITHFAB005 Prepare and serve espresso coffee, please contact our team here to arrange.
COFFEE COURSE SYDNEY | COURSE OVERVIEW
Participants will receive training in the following:
History and origins of coffee;
Grind management and dosing;
The start-up and break down of a coffee machine;
Creating up to 12 different coffee styles with a guarantee of preparing and serving a minimum of 30 espresso coffee's on the training day;
Develop skill required to texture milk;
Tasting and understanding the ranges and strengths of coffee.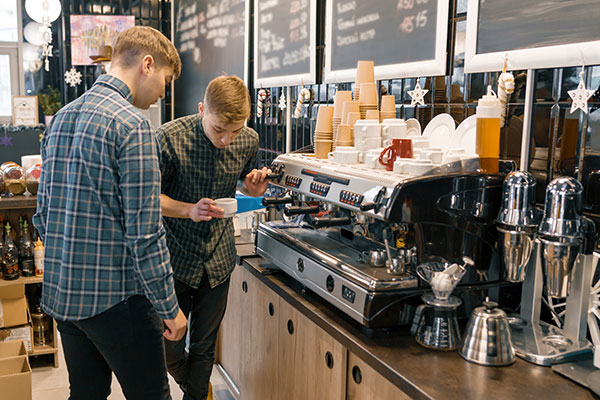 Participants receive a certificate of completion for the course Barista coffee.
BOOK NOW | COFFEE COURSE SYDNEY
The cost of the Coffee Course in Sydney is $100.00 per person, including a certificate of participation. Click Here for Onsite Coffee Course delivery at your Workplace or School.
Date & Time
Location
Price
Book Now
Wednesday
29 March 2023
10:00 AM - 04:00 PM
$100.00
Wednesday
05 April 2023
10:00 AM - 04:00 PM
$100.00
Wednesday
12 April 2023
10:00 AM - 04:00 PM
$100.00
Wednesday
19 April 2023
10:00 AM - 04:00 PM
$100.00
Wednesday
26 April 2023
10:00 AM - 04:00 PM
$100.00
Wednesday
03 May 2023
10:00 AM - 04:00 PM
$100.00
Wednesday
10 May 2023
10:00 AM - 04:00 PM
$100.00
Wednesday
17 May 2023
10:00 AM - 04:00 PM
$100.00
Wednesday
24 May 2023
10:00 AM - 04:00 PM
$100.00
Wednesday
31 May 2023
10:00 AM - 04:00 PM
$100.00
Waiter, Bar & Cafè Jobs
Immediate Start

Immediate Start