JOB CAMP Summer School
Earn essential Hospitality Compliance Certificates and learn Skill Sets, that are pre-requisites for
employment and get connected with Local Hospitality Jobs.
Duration: 2 Days. Cost: $85.00
JOB CAMP SUMMER SCHOOL | MELBOURNE
JOB CAMP Summer School is offered at our Melbourne CBD and Port Melbourne Training Centre and gives participants certificates in Responsible Service of Alcohol (RSA), Food Safety Handler (FSH) and Cafe Skills training.
A key objective of JOB CAMP Summer School is to connect our graduates with hospitality job vacancies.
Short Courses Australia has an extensive network of employers with local job vacancies that will be communicated to participants during the 2 day course.
On completion of JOB CAMP Summer School graduates will be invited to apply for these jobs.
JOB CAMP SUMMER SCHOOL | COURSE OVERVIEW
Participants will receive training and certificates in the following:
Victorian Commission for Gambling and Liquor Regulation (VCGLR) Responsible Service of Alcohol certificate;
SITXFSA001 Use hygienic practices for food safety (FSH) certificate;
Complete Cafe "service cycle" training under the supervision of our qualified hospitality trainer.
Meet local hospitality employer guest speakers to explain industry standards and norms;
Opportunity to prepare an online application for employment with local host employers;
Receive a certificate of completion for the JOB CAMP Summer School course.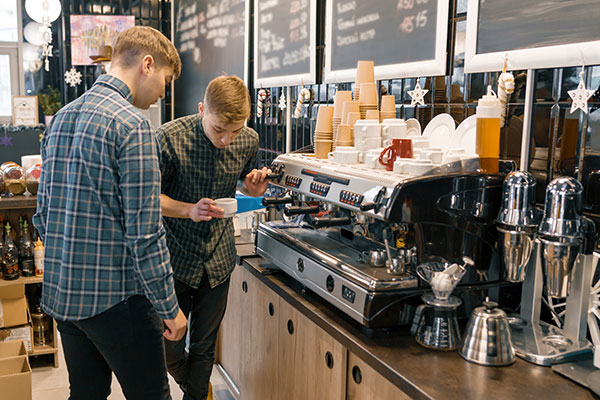 BOOK NOW | JOB CAMP SUMMER SCHOOL
The cost of the JOB CAMP Summer School is $85.00 per person, including certificates. Click Here for delivery at your Council, Agency or Secondary School.
Filter By Location
Date & Time
Location
Price
Book Now
Waiter, Bar & Cafè Jobs
Immediate Start

Immediate Start
Customer Reviews
"Awesome experience! Rachel the instructor had great energy and teaching ability!"

"(Translated by Google) Kind and careful teaching Great experiential course, I learned a lot of helpful content here (Original) ??????? ??????????????????????"

"Covered thoroughly through the content, both self-evident and experience based. From an improvement standpoint, the delivery of content could definitely be improved in terms of engaging students."

"Helpful and engaging trainers. Definitely recommend!"

"RSA guide provided, face to face class was excellent, SCA were very responsive and helpful with class booking, etc."

"Rachel was fantastic and accommodating, with lots of experience to facilitate the course!"