Short Courses Australia News
Keep up to date with the latest changes to compliance arrangements for persons working in job roles that require VET training.
How Do I Get An RSA Certificate in Melbourne
14 Oct 2019 | Simon Phillips
Completing an approved Responsible Service of Alcohol (RSA) program gives participants the skills and knowledge to contribute to a safe and enjoyable environment in licensed premises.
Face-to-face RSA training is mandatory for licensees and staff selling, offering or serving liquor for general, on-premises, late night and packaged liquor licences.
Licensees and staff are subject to mandatory RSA requirements and have one month from the date they first sell, offer for sale or serve liquor on the licensed premises to complete an RSA program.
They will then need to complete the approved RSA online refresher course every three years.
The RSA program covers a range of topics including:
problems associated with excessive consumption
alcohol and the law
the question of who is responsible for RSA
facts about alcohol
improving the atmosphere of your premises
handling difficult customers.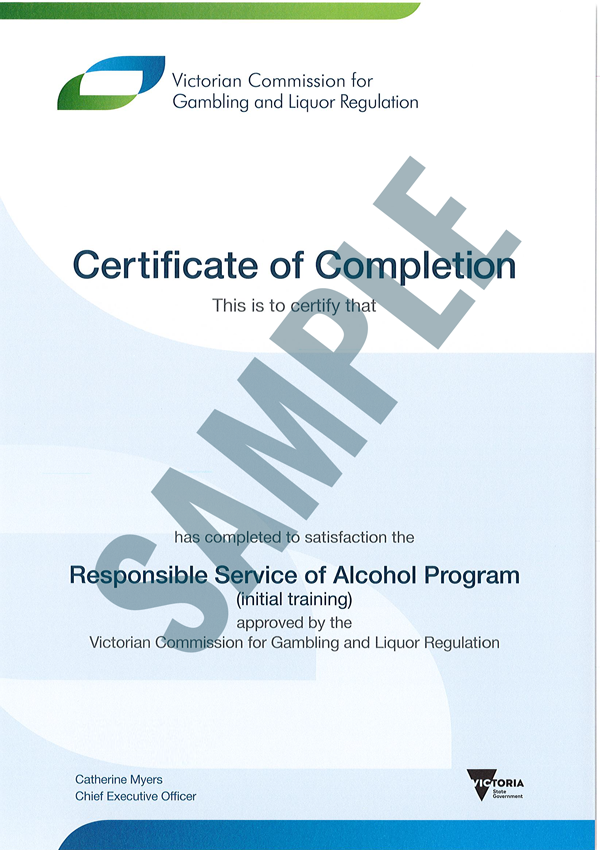 Licensee Requirements
The obligation for a licensee to maintain a RSA register is no longer mandatory. Licensees can continue to voluntarily use the registers if they wish.
A licensee must still provide relevant RSA training information to VCGLR inspectors upon request.
Information that may be requested includes:
the name of the responsible person at the licensed premises;
the name of each person who is engaged in the sale and service of liquor and the date on which each person first sold or served liquor on the premises;
If a licensee holds any other licence containing a specific condition requiring it to keep an RSA register, the licensee is only required to hold a copy of the most recent RSA certificate or evidence of an approved RSA program completion issued to any staff member involved in the sale and service of liquor.
Training providers
Short Courses Australia provide daily courses in Responsible Service of Alcohol at its training centre located at Level 6, 350 Collins Street, Melbourne. Interested persons can enrol online by visiting: https://www.shortcoursesau.edu.au/rsa-course/vic/melbourne